It was a fun-filled evening for the volunteers of the La Conner Sunrise Food Bank. Board members recognized volunteers for their dedications and hard work with a dinner that included delicious wild salmon, a fantastic vegetarian Moroccan dish, salads, and desert – all specially prepared by the board.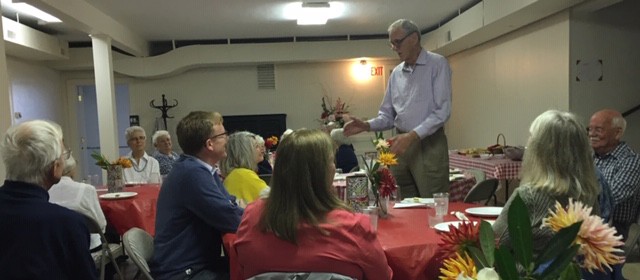 Dinner wasn't the only fun on the menu. Local vocalist Dick Paynter entertained the group before dinner with his beautiful voice. Dick even serenaded retiring director Sue Widdop and the new incoming director Michelle Havist with a special song – what a treat.
After dinner, the fun continued on with a game called, Right Left. Board member Linda Adams read a story and every time the word right or left was said, volunteers passed a canister to the right or left. In the end, the volunteer holding the canister won a generous gift donated by local La Conner merchants.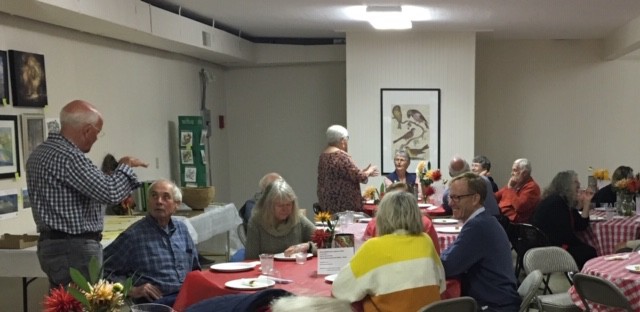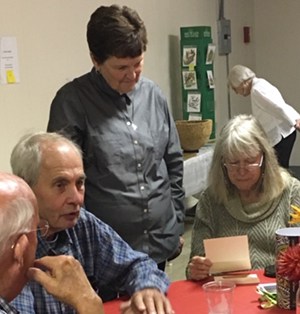 To end the fun, the board presented retiring executive director, Sue Widdop and her husband Richard Widdop, with a Christianson's Nursery & Greenhouse gift certificate for their five year's of service to the food bank. Sue will continue to volunteer at the food bank after her much needed winter vacation.
If you are seeking a rewarding volunteer opportunity, one that supports and gives back to our community, please consider joining our awesome volunteer group at the La Conner Sunrise Food Bank.